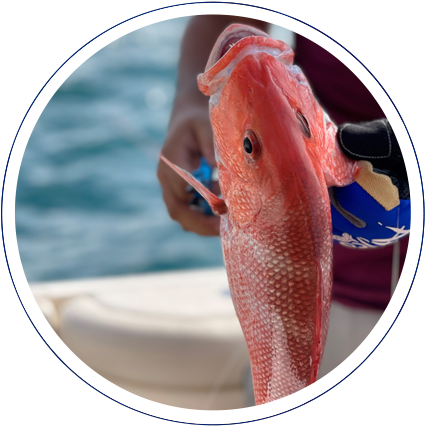 Frequently Asked Questions
What You Need to Do
Before Going on Our Charter Fishing Trips
Frequently asked questions. We think these questions and answers will help you in preparing for your fishing charter!
We suggest that customers bring drinks, lunch, snacks, sunscreen, fishing clothes, hats, hand towels, sunglasses, and Sea sickness medicine.
Everything you need for Deep Sea fishing. Rod, reels, bait, tackle, ice, and fishing license. Fish cleaning and excellent service with a great attitude.
The crew work for a daily wage and tips just like waiters and waitresses. Tips are discretionary; however, it is customary to tip the crew 20% for good service. This is not included in the trip price.
You can have up to 6 people in your group. This is a private specialized charter, therefore we do not group you with other people.  It will only be your group on the boat with the captain.
No, the max we can take is 6 passengers, whether they are fishing or not. Our goal with Razors edge is to provide a cleaner vessel, with a more specialized hands on environment and to do this we are only allowing 6 passengers.
Not at all, we are centrally located on Florida's east coast. We are the closest choice for deep sea fishing near Orlando. Depending on where in Orlando you are staying, the drive is around 45 min to 1 hour.
We are located close to Cape Canaveral, Kennedy Space Center, Cocoa Beach, Cocoa, Merritt Island, Sebastian, Titusville, Daytona, Melbourne, Orlando, Kissimmee, and the Disney/Universal Studios area.
Usually you will have a Captain but no deck hand. Our boats are set up with auto-pilots and laid out in a manner that the Captain is able to drive the boat and provide excellent service with the fishing. Our Captains are very good at what they do.
If you would like to request a deck hand, you may do so, but there will be an additional charge of $75 as our charters are priced based on expense. Sometimes, our Captains will choose to have a deck hand or will be training our future captains. If that happens on your charter, there will be no added expense.
We guarantee that we will try very hard, but fishing is fishing and we cannot control when the fish want to feed or bite. With that said, our Captains are very good and if they aren't catching fish, usually no one is. We are a family owned business and we strive to be completely honest with our customers.  We truly want everyone to have a great experience and we promise that we will always strive to provide that!