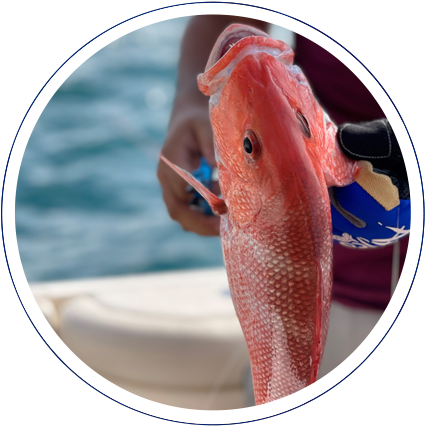 Deep Sea Fishing Charter in Cape Canaveral, FL
If you're in Cape Canaveral, FL, and you want to go fishing out on the ocean, try our deep sea fishing charter. Razors Edge Fishing will help you have the best fishing experience possible, keeping you safe while treating you to a rewarding fishing adventure.
At Razors Edge Fishing, we try to provide the best fishing charter experience possible. From the moment you climb aboard to the minute you step off the boat, we want you to enjoy your time with us.
If you need a break at any time, our high-end boat includes a restroom as well as an air-conditioned cabin. You can take a rest in the cool air and get recharged to get back to fishing. Plus, if you bring your whole family, your kids can take a nap if they need to, so you don't need to worry about grumpiness arising from exhaustion.
There is an array of options available to you at Razors Edge Fishing. First, you'll need to decide how much time to spend out on the water.  We offer half-day, three-quarter-day, and full-day trips, but the longer your trip is, the more bang you get for your buck.
One of our experienced captains will navigate the boat through the waters of the Atlantic Ocean to the best fishing spots for the type of fish you want to catch, whether it be tilefish, groupers, or even sharks. You can then use different techniques to catch them, including:
Bottom fishing
Deep-drop fishing
Planer fishing
Slow-pitch jigging
Trolling
Vertical Jigging
Planning a special occasion? You can choose between a sport fishing trip, a rocket launch cruise, a sandbar hopping trip, and even a dinner cruise. Whatever your trip may need, we'll work with you to make it happen.
If you're ready to get your feet wet, book a trip now, or call us at 301-343-4824 to learn more.